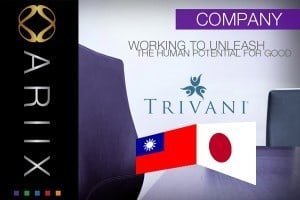 ARIIX Global announced on October 17 2011 the acquisition of the Trivani business, allowing ARIIX Representatives a chance to bring the Activat8 Compensation Plan, a unique multiline plan to Japan and Taiwan earlier than had previously been planned.
The Trivani business was founded in November 2006 by Bob Steed and his mother, Dee Mower. This business consists of two entities, Trivani International and Trivani Foundation. A portion of every Trivani purchase made either by a customer or a distributor, goes towards a Trivani Foundation Project. Trivani`s products consist of health and personal care items manufactured and sold following the "Do Not Harm" philosophy, ensuring protection of people and environment.
Mark Wilson, President of ARIIX states they are excited about adding the Trivani family to ARIIX. This acquisition means an addition of their innovative products and a vast group of 70,000 distributors. He welcomes them and invites those who had left back into the fold. Dee Mower, Founder of Trivani adds that with ARIIX`s desire to unleash the human potential for good, they shall be better able, now combined, to spread the message of health on a larger scale than they could have done on their own.
Bob Steed Chief Executive Officer said "Anytime you have an opportunity to bring together like minded individuals in a collaborative effort, you accelerate your results and open a new world of possibilities. We are excited about making so many new friends and partners so quickly."
To enable a smooth transition, orientation of Trivani distributors and customers will begin immediately. ARIIX Executives have already planned trips throughout Taiwan and Japan to make this as seamless as possible. Riley Timmer, Chief Executive Office at ARIIX, stated that they anticipate Trivani Business Owners will only notice a change in name, a new website, new resources and an increase in their weekly as opposed to monthly commissions. This new market holds potential for the future of ARIIX Global`s expansion. ARIIX which pre-launched in the middle of this year already has operations in United States, Canada, China, Hong Kong, Japan and Taiwan. Expansion into Thailand is expected by the end of the year, with Mexico opening in the first quarter of 2012.