Understanding Networking
How it works and the Philosophy Behind it.
How is a networking lifestyle and income stream created? For some, network marketing creates differing emotions, but let me say that having experienced the lifestyle of a network marketing professional for over 20 years, it is simply the best way to live.
Like many people, I was not always positive towards network marketing. I had heard the negatives the media seem so fond of putting out…I had seen friends and neighbors get involved with various companies…and would mourn their misfortune.
Fortunately, a friend cared enough to take the time to explain the network marketing concepts and principles to me. By applying these powerful networking principles my life has literally changed in every way for the better.
No doubt, some of my neighbors mourn for me when they find out I'm in network marketing. But then…while they are working 40-60 hours per week to make ends meet…I'm living a lifestyle they simply have a hard time comprehending.
The simple concept behind network marketing that makes it so powerful is in understanding the difference between two types of income.
Linear Income
The first type of income is called linear income. When a person first begins looking for a way to create an income, they find out that in order to make money, they must trade some of their time. This trading of your time for their money is usually a one-to-one relationship. They will give you a block of money for a block of your time. The upside to linear income is that it is easy to do. The downside is that the income is limited. When you stop working, your income stops.
Now you can increase linear income by education, seniority, and better professions…but the reality is that no matter how much you make an hour…when you quit working, you quit earning money. The sad part to this equation is that you can make an extremely high income but you will sacrifice your time and lifestyle to achieve it.
Residual Income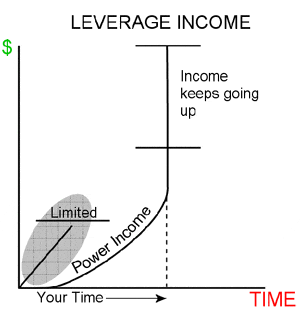 The second type of income, residual income, solves this problem. You can make substantial amounts of income…and have the freedom of time and the lifestyle you desire.
How it works is very simple. Instead of trading hours of your time for income, and relying on your time alone to produce income…leverage your time through other people. Bring others into your network organization and your income will not only be based on your production, but their production.
So at any given time, whether you work or not, you will still receive an income on their production. This is called residual income. This is where you get the freedom of time…and…since your organization can be international in scope, has no limits of territory or size and everyone in your organization can do the same as you…your income can be as large as you are willing to create it.

Comment Below
If you enjoyed this post please share it on the left side (give it a Facebook Like, Tweet-it and give it a Google+1) and add your comments below. I will continue to provide you will information that can help you grow your business online.
---
PS: If Your Upline Does Not Have A Step-By-Step Blueprint For Success, Check This Out (Unless You Already Have Too Many Leads) – Click Here For Instant Access!