Your Ultimate Guide to Affiliate Marketing
The Best Affiliate Programs for Recurring Income
LEARN ALL ASPECTS OF AFFILIATE MARKETING AND HOW YOU CAN BENEFIT FROM MARKETING OTHER PEOPLES PRODUCTS

In the affiliate marketing space, there are thousands of businesses that use this business model to get their brand out there. It important that you do your research as anyone can create an affiliate product but they may not stand behind it. In affiliate marketing you must have a list. Those with the biggest list usually do very well.
Affiliate marketing is a system where an affiliate marketer can earn a commission for marketing some else's product or service. The affiliate marketer searches for a product they enjoy and then promotes that product or service to earn a small part of the profit from each sale.
Here are 15 affiliate marketing statistics worth paying attention to:
1. Affiliate Marketing Budget set to Increase
According to eMarketer, in 2016 U.S. retailers spent $4.7 billion on affiliate marketing. That represents some 7.5 percent of retailer's total digital spend. What's more, Inc.com magazine is predicting that by 2020 U.S. spend on affiliate marketing is expected to rise to $6.8 billion.

Similarly, according to a Forester Consulting study on U.S. affiliate marketing spending patterns, total affiliate marketing spend is predicted to grow by a robust 10.1 percent annually through to 2020.

This is paralleled across other countries, including the UK. The 2017 Internet Advertising Bureau's annual report showed the commission value stood at £1.6billion, demonstrating a major investment.

All in all, The Awin Report reports the total investment in affiliate marketing globally as over €12billion, clearly demonstrating the growing confidence in the channel by advertisers.

2. 81 Percent Of Brands Have Adopted Affiliate Marketing
Affiliate marketing continues to enjoy rising popularity with leading advertisers. This is largely due to its performance-based nature and cost-effectiveness. Increasingly, publishers are outnumbering advertisers amongst affiliate marketing adopters as they look to generate revenue. As of 2016, 84 percent of publishers and 81 percent of brands had adopted affiliate marketing.

In turn, this is placing greater pressure on affiliates for transparency. In recent years, brands such as Warner Brothers and the Kardashians have been scrutinized for failing to disclose paid advertising relationships.

Both brands and influencers can expect to face increased pressure to disclose paid endorsement arrangements, and this is likely to significantly affect many affiliate marketing programmes. With heightened regulation, it's likely both marketers and affiliates will be forced to change or face punitive fines.

Similarly, with the advent of the General Protection Data Regulation last May, affiliate marketers will need to monitor their partners for compliance with the GDPR.

Vetting relationships assume significance to ensure each party have the appropriate consents and disclosures covering the collection, tracking, and processing of personal customer data.

3. "Affiliate Marketing" Search Interest Grew 30 Percent In One Year
According to Google Trends, search interest in the term "affiliate marketing" rose by 30 percent from September 2016 through to September 2017. As online retail continues to enjoy surging popularity, forcing a decline in traditional bricks and mortar retailing, access to cutting-edge affiliate marketing skills and expertise is becoming increasingly important, particularly to small retailers.

4. 20 Percent Of Publishers' Revenue Is Now Generated Via Affiliate Marketing
Affiliate marketing has become an important strategy to almost 9 out of 10 publishers, accounting for 20 percent of their revenue. This in part has developed because some traditional sources of revenue are declining, so publishers have looked to affiliate marketing to generate more revenue. An example of using affiliate marketing to grow revenue includes the development of Snapchat Discover. According to the International Business Times, since launching Snapchat Discover, the business has secured a network of media partners totalling 19 U.S. and U.K. channels and a further four international channels.

5. Affiliate Marketing Is Generating 16 Percent Of All Online Orders
Affiliate marketing is now driving the same volume of online orders as email marketing is delivering. Organic search is generating 21 percent of online orders while paid search is driving 20 percent of online orders.

6. One Influencer Generated $7 Million In Affiliate Marketing Revenue In A Year
News from entrepreneur.com that Jason Stone, better known to his 2.5 million Instagram followers as the Millionaire Mentor delivered $7 million in retailer sales between June 2016 and June 2017 via his affiliate marketing activity.

Stone selectively posts affiliate marketing offers to his profile he believes appeal to his followers.

That $7 million came without having to incur any of the costs or inconvenience involved in selling his own brand of products or services online.

According to Jones, affiliate marketing is at its most successful when influencers focus on promoting products that align with their personal brand and niche market interests.

7. The Most Popular Affiliate Marketing Category Is Fashion, Followed By Sports, And Health/Wellness
Research by AM Navigator into the popularity of affiliate marketing niches discovered fashion emerged as the clear favourite with 18.7 percent of affiliate campaigns promoting fashion-related products.

Runners-up in the study was the sports and outdoor product sector with 14.6 percent of programmes, followed by the health/wellness and beauty sector which accounted for 11.1 percent of programmes.

8. U.K. Affiliate Marketing Now Drives 1 Percent Of The Country's GDP
According to industry research conducted by IAB UK, the growth of affiliate marketing is beginning to show up in the U.K.'s GDP performance. This figure exceeds the performance delivered by the entire U.K. agriculture sector.

9. UK Growth In Sales Up 9.2 Percent
The IAB research also shows that in 2017 increased affiliate marketing spend helped generate 8.9 billion in sales. This 9.2 percent growth is estimated to have created £16 return on every £1 invested.

10. Nearly 50 Percent Of Affiliate-Referred Traffic Came From Mobile Devices
Mobile internet usage exceeded desktops in 2016 and with the advent of Google's mobile-first index, mobile websites will be ranking higher than desktop versions on smartphones and tablets.

Now we see nearly 50 percent of affiliate-driven website traffic is being sourced from mobile devices on the Awin network. So, if your website isn't configured for mobile browsing you could experience a big drop in traffic. As of July 2018, mobile page speed became a ranking factor further underlining the importance of mobile.

Two other interesting stats we reported, was that iPad AOV continued to outperform that of Android tablets, delivering £89.03 in Q1 2016, compared to just £59.86 for Android tablets.

Similarly, iPads consistently saw a higher conversion rate of 4.11 percent compared to Android tablets, with a measly 1.29 percent in Q1 2016.

11. 76 Percent of Publishers Think Affiliate Marketing Makes Monetising Their Website Easy
According to research by Viglink, publishers have a positive view of affiliate marketing. 45 percent feel it does not interrupt the user experience, while the top reason 76 percent of affiliate marketers pursue it is because they feel it makes monetising website easy. 65 percent also feel it generates additional revenue.

12. 22 Percent of CMOs Nominate Affiliate Marketing As Least Mastered Practice
A recent collaborative survey by Marketo and Fanatics Media found 22 percent of the current generation of Chief Marketing Officers surveyed nominated affiliate marketing as their least well-mastered area of practice. Given affiliate marketing is one of the best disciplines for driving brand building activity and generating a positive ROI, this statistic could give brand owners cause for concern.

13. For 38 Percent Of Marketers, Affiliate Marketing Top Acquisition Channel
According to the National Retail Federation, over a third of marketers feel that affiliate marketing is one of the strongest forms of acquiring new customers.

14. Pay-Per-Call Affiliate Marketing Initiatives Are Delivering 10 to 15 Percent Conversion Rates
If you're a retailer and phone calls are an integral element of your marketing strategy, then if you are not leveraging Pay-Per-Call, you're leaving revenue and future sales on the table. Pay-Per-Call conversions on average range between 10 to 15 percent compared to 2 to 3 percent for online conversions.

15. Content, Content, Content
Affiliate marketers use content to good effect in their campaigns and with good reason. Over the last few years, content produced by affiliates has grown by 175 percent, and the revenue created by content publishers has increased by 240 percent. Content marketing, in general, creates three times more leads than ads, yet costs 62 percent less.
Rick's Recommended Tools & Affiliate Programs
I've been online since 1995 and I love technology, so tools for creating, running and growing an online business have long been an obsession of mine. Below, you'll find my recommended tools for various purposes and stages of your business.

These are some of the Marketing Tools that I have used over the years to build my business.The difference between people that make a lot of money online and those who don't is TRAINING. Many online resources and marketing tools advance your knowledge on online marketing and business building.
So you're here looking for the best recurring affiliate programs to promote?
You're in the right place.
One of the best parts of affiliate marketing is generating recurring revenue from your audience. You only have to put in the work as an affiliate once to get your audience in the door, and after that you can sit back and enjoy years of revenue.
No customer support. No midnight calls about broken servers. Nothing. Just pure recurring revenue.
Yes, affiliate marketing is awesome.
Obviously all affiliate programs aren't equal though. While some offer a measly 10% recurring, there are plenty of programs that offer as high as 50% recurring revenue every single month. This post is going to focus on these ones, as they give us the ability to either 5x our results, or to 1/5 of the work.
Both are wins in my book.
What is a Recurring Affiliate Marketing Program
A recurring affiliate marketing program is a product referral program that offers ongoing commission from customers when they make future purchases. It's common for affiliates to earn ongoing commission when they promote software subscriptions, online courses billed monthly, subscription sites with gated content, and more.
For example, say you join a recurring affiliate program to promote a software that costs $250/month. If they have a 20% commission rate, then you'll get $50/month for each subscriber you refer as long as they continue to use the software.
Promoting products from a recurring affiliate program is a great strategy, as you can focus on marketing a few products knowing your efforts can generate you recurring income. Focusing on products with a one-time commission means you'll have to constantly market new products to your audience to keep up your income.
By focusing on recurring programs your growth will start out slow, but typically grows exponentially once it starts moving.
Say you get two people in month one with each person generating $50 a month in revenue.
The next month you get two more. That means in month three you will generate $200, even if you don't do any work.
But you aren't just going to add two people each month. Because you are getting better and your content is starting to get more visitors, etc.
So by month six you are getting six new people to sign up each month.
By month 12 you are averaging 10 signups every month and your recurring commissions from previous months are between $2,000 and $3,000.
Can you see why this is so appealing and so lucrative? A few years of consistently promoting recurring affiliate programs can literally provide a retirement income for many people.
Visually it would look something like this.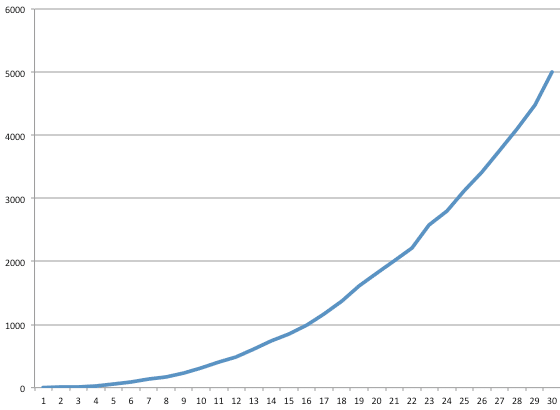 So, if you're ready to target recurring commission products for your business, here's a helpful list of the best recurring affiliate programs that can grow your online income exponentially.
Please note that most of these affiliate programs are focused on the small business or solo entrepreneur space. That's where I live and that's what I love.
Commission rate: Probably the most unique thing about the ClickFunnels affiliate program is that they'll cover the payments on your dream car after you get 100 new ClickFunnels users. And even if you don't need a new car (who doesn't?), you'll be happy with the platform's 40% commission rate overall.
There are 3 steps to qualify for ClickFunnels free car reward:
Step 1: Sign up and get 100 active ClickFunnels Members.

Step 2: Stay above 100 active members and ClickFunnels will start sending you a $500/month check for your car payment.

Step 3: Get 200 active members and ClickFunnels will increase your reimbursement to $1000/month for your dream car.
How it works:
ClickFunnels is easily the best recurring affiliate program on planet earth right now for a myriad of reasons.
The biggest reason is the way their cookies work across multiple products. So ClickFunnels has products ranging from $5 books to $5,000 year long coaching packages. An affiliate can refer someone to buy the book, and then get a huge payday when that referral buys the coaching package down the road.
The recurring piece of that is the actual core product, ClickFunnels. This is a software that ranges from $97 to $297 a month. As discussed above, an affiliate can send someone to buy the book, and if they sign up for the software down the road that affiliate will get 40% recurring commissions off that purchase.
Another thing that makes ClickFunnels so appealing is all the free training they provide. Even if you're new to affiliate marketing, they provide you with everything you need to learn the ins and out of the business, then succeed as their affiliate. You can see for yourself with their Affiliate Bootcamp program.
CLICK HERE >>> To get your 14-Day Free Trial of ClickFunnels
ClickFunnel FREE Book Offers:
FREE Book! Network Marketing Secrets "How to Use Sales Funnels To Grow Your Network Marketing Team...So You Only Have To Talk To People Who Are SO SUPER INTERESTED In What You're Selling That They Actually Raise Their Hands And ASK You To Sign Them Up!" — CLICK HERE >>> To get the FREE Book
FREE Book! DotCom Secrets, The Underground Playbook For Growing Your Company Online..."A simple process that ANY company can use to geometrically improve their traffic, conversion and sales online." - Tony Robbins Introducing DotComSecrets - The Underground Playbook For Growing Your Company Online... CLICK HERE >>> To get the FREE Book
This is probably one of the most useful (if not the most useful) books I've added to my collection this year...Russell Brunson recently launched his newest book called:
"The Funnel Hacker's CookBook"...and, for the immediate time being, he's been PAYING for people's books...He'll cover the cost the actual book (you've just got to cover shipping).

Here's where I got my free copy from: The CookBook breaks down all of his sales funnels into easy-to-read "recipes", so anybody can easily create them. — CLICK HERE >>> To get the FREE Book
Category: Email Marketing
Email is perfect for keeping your brand top of mind and staying connected with those who make a purchase, read your blog or meet you in person. And when you join the community where email automation began, you get access to all features and a team that's 100% devoted to your success.
CLICK HERE >>> To get a 30-day FREE Trial of Aweber
Category:
Domain Registration & Hosting
That modest sum is all you need to bring your greatest ideas to life! Reignite the embers of that business idea you had; tell the world your story with a new blog; showcase the work you are most proud of — or how about all three! All for small change.
CLICK HERE >>> To learn more about NameCheap
Category:
WordPress Theme Builder
WordPress core developers need to make note of Thrive Content Builder plugin by ThriveThemes. I remember, not too long ago, when Matt Mullenweg was revealing some of the up and coming changes he was hoping for with WordPress. Although, since that time we have seen some of those things happen, one of the features I had hoped would have come sooner than later was a better What You See Is What You Get (WYSIWYG) editor. Ideally, front end editing.
CLICK HERE >>> To learn more about Thrive Themes
Category: Lead Generation
The point of this page is not to promote my own products, but for lead generation it's just inevitable. If you're using WordPress, Thrive Leads is the best list building plugin, hands down. It gives you every opt-in form type you can think of, tons of templates and the ability to split test everything. And on the topic of building your mailing list, I don't know what I'd do without the Thrive Architect plugin for building landing pages, either.
CLICK HERE >>> To learn more about Thrive Themes
Category: SEO Tools
Try the World's No.1 Marketing Tool Free! Manage your SEO, Advertising, Content, and SMM all with SEMrush. SEMrush not only helps you perform day-to-day tasks, but also provides in-depth analysis that is very clear, can be easily incorporated into your digital marketing strategy and can significantly improve your performance.
CLICK HERE >>> To get a 7-day FREE Trial of SemRush
Category: SEO
LongTailPro is a popular keyword research tool, and if you use it, you qualify for their affiliate program.
LongTailPro has a great recurring affiliate program — for each sale you make, you get 30% commission from the sale price and recurring revenue when customers subscribe to their monthly or annual plans.
Signing up for LongTailPro's affiliate program is easy, all you have to do is create an account and you're good to go. You can then use their affiliate links, banners and other marketing collateral to promote the tool.
CLICK HERE >>> To learn more about LongTail Pro
Category: Article Writing
iWriter is the fastest, easiest and most reliable way to have content written for your website. You'll be able to post a project and 1000s of freelance writers from across the globe will have instant access to write your content quickly, professionally, and affordably.
CLICK HERE >>> To learn more about iWriter
LEAD GENERATION
The online university of attraction marketing. I've been using MLSP since 2009 to generate leads and make money online. They take you by the hand and teach you how to build your own brand online by providing value into the marketplace. They give you tools like lead magnets that you can use on day one, so you can start marketing like a 6-figure earner right away. You will also get a blog and custom lead capture pages to start collecting leads. I'm grateful to the guys at MLSP and glad I found it. I definitely recommend it no matter where you're at in your business.
CLICK HERE >>> To get a 10-day FREE Trial of My Lead System Pro
Disclaimer: Please note that the links on this page are affiliate links and commission may be earned at no additional cost to you.